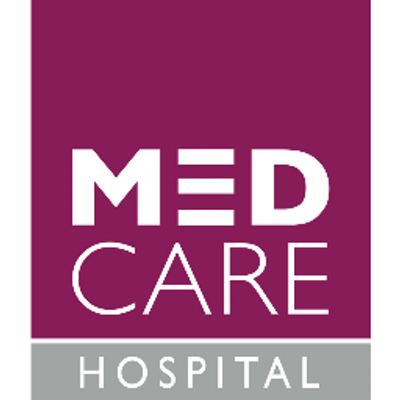 Medcare Hospital is Dubai's new 64 bed premium private general medical facility located in Jumeriah adjacent to Safa Park, between Sheikh Zayed and Al Wasl roads and is the first in the new Dubai area to offer advanced medical care and emergency services. The attaining of Joint Commission International (JCI) accreditation; which is considered the gold standard for quality accreditation in healthcare domain is one of the few initial achievements for Medcare within 8 months of commissioning the hospital. The Hospital has a full-fledged Emergency Department, 25 Outpatient consultation rooms, ICU, NICU, Delivery suites, Endoscopy Room and Day Surgery unit.
The Diagnostic Centre features advanced laboratory and imaging equipments like the Open MRI, CT Scan, Mammography, 4D Ultrasound and Fluoroscopy. The Hospital offers both inpatient and outpatient care which covers a wide range of Medical and Surgical Specialties. All the departments are manned with highly experienced staff providing accurate reliable and prompt care quality services of international standards.
Medcare Hospital is owned by a consortium of Medical and non-medical investors and is managed by EuroHealth Systems FZ LLC, the consultancy division of Dr. Moopen's Healthcare Management Services group, operating in Dubai and neighboring countries for the last 20 years. Medcare will continue to build on its talent, expertise and commitments, constantly seeking new opportunities to provide innovative services.
At Medcare "people are our assets". Growing with experienced people serves our commitment of rendering quality services and ensuring all our patients get the very best in patient care. We have taken great efforts to source the best of multinational, multi lingual medical and other clinical staff.
All Senior Medical staff are well qualified with Postgraduate qualification from leading institutions from US, UK and India and the significant post qualification experience from the west or other institutions of exceptional quality. The highly talented and experienced nursing staff of Medcare Hospital is recruited through a well streamlined process from India, Philippines, UK, South Africa, Middle East and other countries.
Address :
Medcare Medical Centre
Umm Suqeim 1, Jumeirah Beach Road,
Near to Umm Suqeim Municipality Office
P.O. Box : 348, Dubai. UA
E
Tel : +971 4 39 53 115
Fax : +971 4 39 53 116
Email : info@medcarehospital.com
Web : www.medcarehospital.com
Services :
Family Medicine • Paediatrics • Obstetrics & Gynaecology • General Surgery • ENT • Urology • Rheumatology • Diet and Nutrition
Nursing Job vacancy for Register Nurse - ER :
Title : REGISTERED NURSE- ER
Employment Type : Full time
Medcare Hospital Dubai, Medcare Orthopaedics & Spine Hospital, Medcare Women & Children's Hospital, Medcare Hospital Sharjah
will be responsible for providing a high standard of patient centred care within the AandE department, and will thrive within an innovative environment to develop and enhance your Nursing careerBased within the Accident and Emergency department, the role will be fast paced and require a focused and driven Nurse to perform under pressure. You will support the senior emergency nurses and team members to in turn deliver high quality care to patients in AandE. You will be an integral member of the nursing team, ensuring patients are competently assessed, problems identified and that their care needs are adequately met.In this role your responsibilities will include Provide early intervention and psychological care to patients Provide continual updates to patients with information in relation to their condition process through the department Participate in the on going development within the A+E department Help to ensure that the departmental targets and care objects are met
Excellent English communication skills (Written and Oral communication) o BCLS. ACLS Certification is Advantage Educational Qualification: • Bachelor's Degree in Nursing or Higher Diploma (3 years duration) with Pre-degree course from an accredited institute Professional Experience: • Minimum 4 years experience as ER Nurse
Must have valid MOH/ DHA license as RN